Populations | Donate | Enhancement | Distribution | Genomics | Flavour
Screening
Several disease resistance screening methods are currently used for the two major diseases affecting cocoa in Trinidad and Tobago.
To determine Black Pod resistance the most precise method is spray inoculation of pods, as it correlates best with field data, but because it necessitates waiting until plant maturity two other methods can be used, leaf disc method and leaf punch inoculation.
Leaf punch inoculation measures post penetration resistance which is very important since plants which are resistant to post- penetration spread can survive and flourish although infected.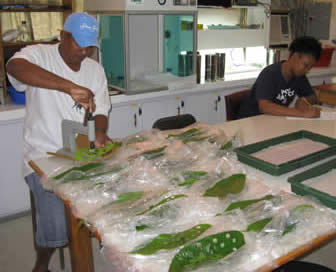 Populations | Donate | Enhancement | Distribution | Genomics | Flavour | Screening