Genebank Tour
Imagine a nature lover's paradise created by lush cocoa trees, majestic Immortelle shade trees, the watercourses to irrigate fields, idyllic reservoirs, together with wildlife that includes many species of birds, squirrels, and (a few) snakes.
It's a place where one can relax and enjoy nature while learning about the cocoa industry, the history of chocolate; and the importance of conserving biodiversity (particularly that of cocoa) and our environment. Welcome to the ICG,T: the International Cocoa Genebank,Trinidad!
The ICG,T tour offers a unique opportunity to observe the widest variety of cocoa (Theobroma cacao) trees to be found anywhere in the world apart from where it was collected at the centre of origin of cocoa in South America. It is a treasury of cocoa genes spanning an area of 37 hectares.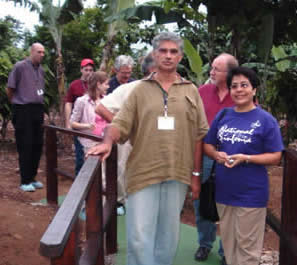 The ICG,T tour encompasses a scenic route through one (or more) of six cacao fields, varying in size from 1.3 ha to 6.2 ha, and ends with a taste of local cocoa "tea" and dark chocolate. Educational literature will be made available on demand. In future, there will also be opportunities to purchase branded products ("T" shirts, caps, cloth bags etc.), and documentaries of cocoa on CD.
Tour Guidelines
What To Wear: Enclosed shoes, (sneakers or boots preferred), long trousers (jeans or thick cotton material), long sleeved shirt, mosquito repellant.
Minimum # of participants: 10 (If you wish to request a tour but do not have 10 people, please inquire and we will try to facilitate you if possible)
Cost: $60 per person (Minimum: 10 persons) School discounts available.
Bookings must be made at least three weeks in advance to ensure availability. Please visit the tour registration page and complete the online booking form. You will be contacted to confirm the booking.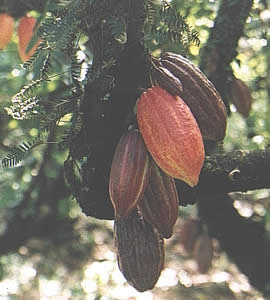 More details on the ICG,T
The ICG,T was originally part of the La Chaguaramas Estate at Centeno, and is situated at the University Cocoa Research Station, approximately 5 km from Piarco International Airport. Bordering the ICG,T are the Caroni River (North), the fields of the La Reunion Estate, which belongs to the Ministry of Food Production, Land and Marine Affairs (East and West) and the abandoned sugar-cane fields of the former state company, Caroni 1975 Ltd (South)..
Currently, approximately 2,300 types/accessions (represented by about 12,000 trees) are conserved at the ICG,T and additional clones are added as they become available. These trees represent all the major recognised cocoa groups (Forastero, Criollo, Trinitario and Refractario). They include the famous Trinitario clones, the Imperial College Selections, which originated and have been cultivated in Trinidad & Tobago for many years and are responsible for the enduring and fine reputation of Trinidad & Tobago cocoa. There are also related species of Theobroma such as T. speciosa and microcarpa.
The majority of cocoa types or accessions are from the late Dr. F.J. Pound's germplasm selection activities in Trinidad & Tobago and his expeditions to the Upper Amazon, and others are from numerous other subsequent collecting expeditions to obtain genetically distinct material in South and Central America. Acquisitions since 1990 are (Trinitarios) from other islands in the Caribbean and Central America, material from French Guiana and Venezuela, wild Criollo material from Belize, and genetically diverse Upper Amazon clones from Ecuador. Field 7 contains the valuable results of CRU's germplasm improvement efforts.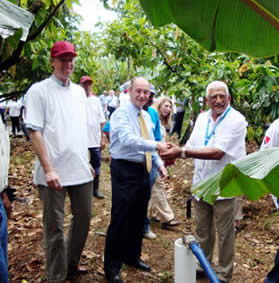 Image copyright © Ed Seguine.
The trees are established in a square planting design and the majestic Mountain Immortelle and the River Immortelle (Erythrina sp.) provide permanent shade while non-commercial bananas provide temporary shade. In order to secure water for the genebank in a sustainable manner, two reservoirs were built in the ICG,T and permanent (subterranean) irrigation pipes were installed.
To reserve a tour to the ICGT, please fill out the online registration form.
For further details, please call CRC office at 662-8788 or send us an email. Tours must be booked at least three weeks in advance to allow staff to prepare.
Other Services