Quality Management
Activities | Achievements | Staff
Objectives
Characterise flavour attributes; nutraceuticals of cocoa germplasm.
Development of value-added products.
Assessment of flavour is an aspect of evaluation of particular value to cocoa farmers in Trinidad and Tobago who produce fine or flavour cocoa. Sensory assessments are carried out using trained panellists to investigate effects of various post-harvest processes on the flavour attributes of selected accessions.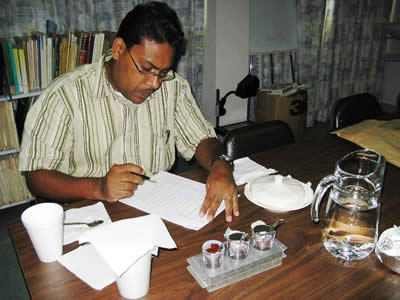 Recent work has demonstrated the consistency of trained panels to give quantitative sensory assessments and flavour profiles are being documented for a range of accessions.
We plan to extend this effort to determine flavour profiles of clones with other desirable traits such as good yield potential and/or disease resistance.
The assessment of flavour traits is an expanding area of investigation in CRC, and there is an increasing demand for the CRC taste panel to assess flavour of cocoa liquors from a wide range of cocoa producing countries.