Training
Flavour | Molecular Tools | Scheduled Training | Other Services
CRC is committed to providing training (on-demand or scheduled) to empower researchers, farmers and other stakeholders, and share the technological knowledge and skills necessary for the survival of the local and global cocoa industry.
Master of Science
Master of Science in Genetic Resources (Upcoming)
Short courses/training workshops:
Agronomy (Plant propagation/grafting)
Flavour & Quality
Molecular Tools
Morphological characterisation
Phytopathology
Some of the training modules currently offered are summarised below with details of scheduling and application links.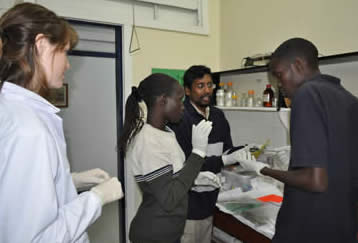 Flavour
• Fermentation
• Physical assessment of beans
• Liquor and chocolate making
• Flavour profiling
Chocolate Making Course
The CRC chocolate-making course consists of several theory and practical sessions in a 4-day period. Topics/skills covered will include the following: Fermentation, roasting, sensory evaluation, tempering, the triple roll, and moulding. A certificate of participation is awarded upon completion of the training.
This workshop is a combination of mini-lectures and laboratory sessions designed to give a solid introduction to molecular profiling using modern techniques. The module list gives a guideline to the modules covered and is subject to change/confirmation.
Schedule

On demand
Apply for training in Molecular Profiling tools
Scheduled Training
February, 2014 - The Budding and Grafting of Cocoa (Grenada)
On demand - Training is available, subject to the availability of staff and in the absence of other scheduling conflicts. Please contact our main office for information at your earliest convenience. Inquiries made in advance of desired training period are likely to be more easily facilitated.

Apply for training in cocoa Flavour and Quality
Other Services & Related Pages
Certification | Genebank Tours | IPR for Cocoa