Premium Dark Chocolate
You are about to experience the unique taste combination of over 2,400 different cacao varieties found at the International Cocoa Genebank, Trinidad.
This "terroir" truly represents the "Spirit of Chocolate" and combines our unique assemblage of varieties, their growing environment at La Reunion, Centeno with carefully monitored fermentation and drying at our model processing facility.
Exquisite chocolate making craftsmanship at our micro chocolate factory at The UWI, St. Augustine brings out a rich and exciting harmony of brown raisin fruit notes coupled with mild fruit acid overlaid on a robust cocoa/chocolate base. This is our signature flavour profile.
Thank you in advance for purchasing our 70% premium quality dark chocolate bar. All who do so can feel satisfied that they have contributed towards the preservation of a valuable global resource. Enjoy!
History
Since 2012, the Cocoa Research Centre has begun limited production of this premium dark chocolate bar. It is a blend that was carefully crafted by the talented team working in the flavour and quality section. Our First Edition 70% "Spirit of Chocolate" 50g bar, produced in celebration of our 50th anniversary sold out within a very short time following the launch at "Spirit of Chocolate - Fete de la Cocoa" on November 2, 2012.
At the moment, the CRC continues production of the 50g bars (70% cocoa) which have consistently exceeded expectations for flavour, a testament to the history behind the cocoa that is used to produce these nuggets of brown gold.
Please call 1-868-662-8788 to confirm availability of the chocolate bars or drop by our office in the Sir Frank Stockdale Building, if you are in the area of The UWI St. Augustine campus. Cost per bar: $60 TT.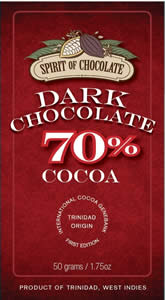 Related Pages