WCF Project
| | |
| --- | --- |
| | World Cocoa Foundation |
The World Cocoa Foundation (formerly the American Cocoa Research Institute) has had a long relationship with the Cocoa Research Centre, starting in the 1960's with their invaluable support of W.S. Chalmers' collection expeditions.
More recently (from 1993-1998), an evaluation of cocoa butterfat content of 450 accessions of the ICG, T was undertaken with funding from the WCF when it was known as ACRI.
Details of the current research project financed by WCF are summarised here.
Evaluation of cacao germplasm for resistance to Witches' Broom disease
Witches' Broom (WB) disease, caused by Moniliophthora perniciosa, is one of the major diseases faced by cocoa producers in Latin America. The disease is endemic to the forests of the Amazon basin and it has long been known in the Upper Amazon regions of Brazil, with pod losses in this region reaching 95% on occasions.
Witches' Broom disease was first observed in Trinidad in 1927 and the search for resistance to Witches' Broom disease began in the 1930s at the Imperial College of Tropical Agriculture (now the University of the West Indies).
Since that time, research into cacao and cacao diseases in Trinidad has continued uninterrupted to the present day. In the 1980's, various collections of cacao germplasm previously brought into Trinidad were re-established on a single site to form the International Cocoa Genebank, Trinidad (ICG, T). Almost half of these accessions had been selected for the lack of of WB symptoms on the parent tree in the area where they were found.
Detailed information is required on the level of resistance to WB in accessions at the ICG, T, with a view to selecting parents for germplasm enhancement. In order to acquire this information, a project for the mass screening of cacao germplasm is in progress.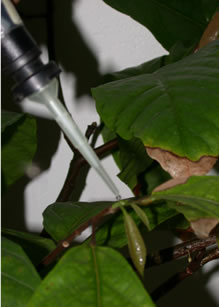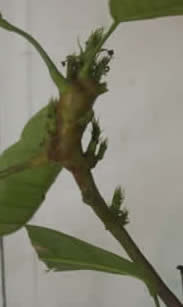 The World Cocoa Foundation (WCF), (formerly the American Cocoa Research Institute), funded the project on screening for resistance to Witches' Broom disease (WBd), was initiated in July, 1998, with the aim of identifying resistant clones and documenting the level of resistance to WBd in the cacao accessions held in the ICG,T.
The protocol for screening involves a two tiered system, where grafted accessions are manually spray inoculated initially, followed by a second round of screening for those promising clones identified. The agar-drop inoculation method is used in this final confirmation screening.
Results for mass screening have confirmed that there is considerable variation for resistance to WBd within the collection held at the ICG,T, with more clones showing less than 50% infection compared to clones showing more than 50% infection.
In addition we have been able to identify some accession groups which contain clones with very high levels of resistance. Overall 10% of the clones screened for resistance have confirmed resistance and as screening continues this percentage is likely to increase, yielding a genetically diverse source of resistance genotypes from the ICG,T.