Populations | Enhancement | Distribution | Genomics | Flavour | Screening
Donate
Every day a substantial area of tropical rain forest is cleared for timber extraction, shifting agriculture and other purposes. As the rain forest disappears, wild cocoa trees and thousands of other unique plant and animal species associated with it are lost for ever.
The Cocoa Research Centre (CRC), based at the University of the West Indies, is saving wild cocoa varieties that originated in the rain forests and varieties from cocoa-growing areas worldwide. All the conserved trees are growing in a living collection at the International Cocoa Genebank, Trinidad (ICG,T).
The biodiversity of this collection is vital to scientists who need it to breed improved varieties by conventional methods for many thousands of smallholders who cultivate cocoa in the humid tropics.
Evaluation of the trees in the ICG,T for their potential use receives support from a number of organisations, but CRC now relies on private donations for their maintenance. You can be personally involved with this important task.
Please help CRC to preserve this priceless natural resource, and ensure that it remains available to plant breeders, now and for generations to come, by adopting a tree or even a whole plot.
Donation - Click to go straight to online donation form.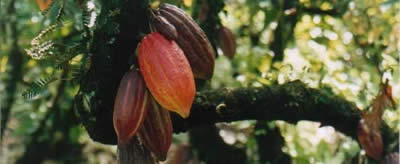 Populations | Donate | Enhancement | Distribution | Genomics | Flavour | Screening