Collection/Distribution
Collection and distribution of germplasm in the International Cocoa Genebank, Trinidad
Collection
New introductions of cacao germplasm are added to the ICG,T either from expeditions to obtain wild material, or from other national collections. Recent examples are wild criollo germplasm from Belize, lower amazon material from French Guyana and upper amazon accessions from the John Allen collection in Ecuador.
All new introductions must be quarantined. They were previously kept in the cocoa quarantine station, Barbados but now are quarantined at Reading, UK. Post-quaranting, the new material is transferred to a nursery in Trinidad in preparation for planting in the field in the ICG,T, when plants have reached a suitable stage.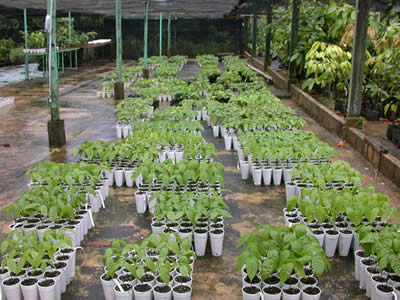 Distribution
Selected material from the ICG,T is distributed to other cocoa producing counties via intermediate quarantine at Reading, UK. Material is usually sent to Reading as budwood sticks, but clones which prove difficult to propagate by budding in Reading are transferred as rooted micrografts. For this, rootstock seedlings are grown in a hydroponics system without soil, and young budwood from the selected accessions are grafted below the cotyledons when the seedlings are about 3 weeks old.
Other CRA Projects
Disease Screening | Characterisation | Verification | Germplasm Enhancement | Conservation