Centre for Development of Enterprise
(CDE) Project


Caribbean Fine and Flavour Cocoa Industry Commercialisation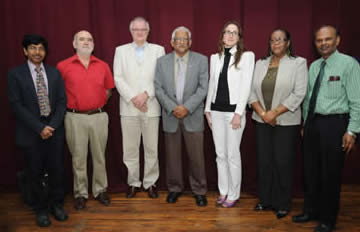 Centre for Development of Enterprise (CDE) is a EU/ACP institution in the region, with its head quarters in the Dominican Republic. CDE is funding a regional project entitled "Caribbean Fine and Flavour Cocoa Industry Commercialisation" to provide technical assistance to entrepreneurs within the cocoa sector in 7 Caribbean countries (Belize, Commonwealth of Dominica, Dominican Republic, Haiti, Jamaica, Grenada, and Trinidad and Tobago) with the ultimate aim of improving the profitability of the regional cocoa industry as well increasing the export volume from the region.
CRC partnered with CDE in implementing the initial step as well as components 1 and 2. Component 5 is being carried out in partnership with IICA.
Component 2: Quality Control And Food-Safety Of Caribbean Cocoa; Technical Assistance
Component 3: Support To Small-Scale Cocoa Manufacturers And Chocolate Makers Operating In The Caribbean Area; Technical Assistance
Component 4: Improvement Of Productivity And Quality In Haiti - Technical Assistance
Component 5: Promotion Of Agritourism Related To Cocoa Production And Chocolate Products Elaboration In The Caribbean Area - Technical Assistance
The overall goal of the project is to address the challenges faced by fine/flavour cocoa producers in the Caribbean: declining production and low productivity; as well as food safety and other quality concerns. In addition, the project will promote the development of value-added products and agri-tourism associated with cocoa production.
More about the CDE Project
Background
Several Caribbean countries produce fine and flavour cocoa that is traded in a niche market at premium prices and sought after by manufacturers of dark chocolates and other speciality products.
The local and regional cocoa industries have a strong reputation for quality. Their full potential is not being realised however, since production levels have declined over many years. Additionally producers do not have the economic incentives to expand production.
CDE is an ACP (African, Caribbean and Pacific)/European Union (EU) joint institution created to support the development of the private sector in ACP countries.
(Website: http://www.cde.int)
A diagnostic phase of the project was conducted from February, 2010 to July, 2010 by Centre de Coopération Internationale en Recherche Agronomique pour Le Développement (CIRAD), as the Lead Consultant, with support from local consultants from each of the seven participating Caribbean countries.