Antoinette Sankar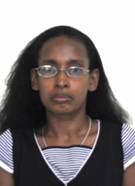 Overview
Antoinette is a researcher (Contract Officer since 2002) with responsibility to assist with activities in the Molecular Section. Activities involve DNA extractions, PCR, gel electrophoresis, lab management, and supervision of interns.
Other activities include pod photography (since 2011), editing pod photos and compiling information for the Cacao Clones Manual.
Also in 2011, Antoinette was designated Safety Officer to represent CRC on UWI campus safety committee meetings, organise staff safety meetings and education.
Areas of expertise, interest/specialties
Specialties include molecular tools: DNA extraction, SSR-PCR, gel electrophoresis, webpage editing as CRC webmaster since 2002, amateur photography, blogs and basic graphics editing skills - she co-developed a logo for CRC staff T-shirts. Interests include molecular techniques for fingerprinting and crop improvement, Intellectual Property Rights, health and safety, desktop publication and social media tools for education.
Recent work includes genetic analysis for fingerprinting, the development of a new website for CRC, photography and image editing for the Cacao Clones Manual in collaboration with the Morphology section, and co-production of the manual for CRC's Molecular Tools workshop. She also recently attending a training program on Genetic Resources Intellectual Property Rights.
Projects and publications
Project of Change - GRIP13a - Certification/Collective Marks for Cocoa (2013)
USDA Global Fingerprinting Project
Sankar, A.A. and Moore, G.A. (2001) Evaluation of inter-simple sequence repeat analysis for mapping in Citrus and extension of the genetic linkage map. Theoretical and Applied Genetics 102 (2/3): 206-214