Activities
Assessment of cocoa quality and flavour
the study of cocoa fermentation and cocoa drying
assessment of dried and fermented beans
production of cocoa liquors and chocolates
organoleptic evaluation of cocoa liquors and chocolates
analysis of data obtained
participation in collaborative work in flavour and quality of cocoa
and training of persons interested in the assessment of cocoa quality and flavour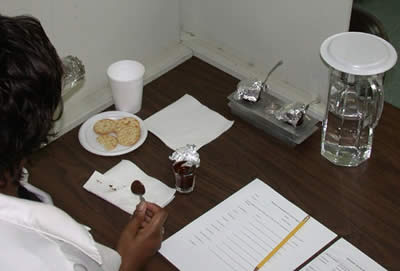 Organoleptic assessment of cocoa liquors
Student Supervision
Staff are also involved in supervision of post-graduate students:
Two M.Phil. students in the Department of Chemistry (Sheldon Pilgrim and Ashaki Andrews). Main Supervisor: Ivan Chang Yen
Ph.D. Food Science and Technology student (Naailah Ali) Main supervisor: Gail Baccus-Taylor
and also offer advice for numerous B.Sc. undergraduate student projects in the Faculty of Science and Agriculture and Faculty of Engineering.