Activities
Black Pod disease
A collaborative project with the Ministry of Food Production, Land and Marine Affairs (MFPLMA) entitled "Improvement of resistance to Black Pod (BP) disease in Trinidad Selected Hybrids (TSH)" was initiated under a Memorandum of Understanding (MOU) signed in 2009.
CRU is currently screening progeny for BP disease resistance from crosses made between TSH varieties and Black Pod resistant material from a previous CRU germplasm enhancement programme. The screening method selected to screen seedlings for BP disease resistance is the leaf punch inoculation method.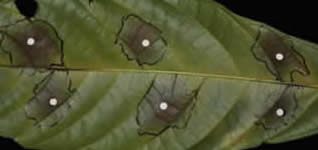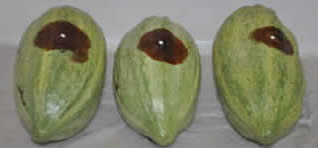 Field observations of seedlings, from previous BP germplasm enhancement programmes are ongoing. Observations include Black Pod and Witches' Broom prevalence, rodent damage, pod bearing capacity and incidence of cherelle wilt.
Witches' Broom disease
There was a need* for detailed information concerning the level of resistance to WB disease of accessions held in the ICG,T. Almost half of the accessions held in the ICG, T, were collected based on their apparent resistance to WBD in the areas where they were found e.g. "the Refractarios".
It was thought therefore that there is a greater than average chance of finding accessions with resistance to Witches' Broom disease within this diverse cacao collection held at the genebank .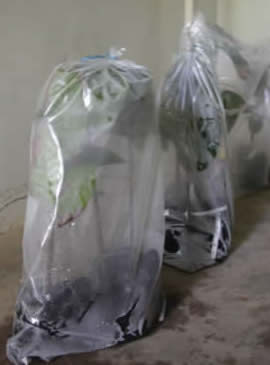 As a result, a project for mass screening was undertaken in 1998, financed by the World Cocoa Foundation (WCF), with the aim of achieving the following objectives: -
To carry out mass screening of the accessions in the ICG,T for WB resistance.
To confirm the level of resistance in clones showing promise from mass screening experiments.
*Witches' Broom disease (C.A. Moniliophthora perniciosa), is recognised as one of the major diseases faced by cocoa producers globally. The selection and development of Witches' Broom resistant cocoa types appears to be the only important long-term solution for the control of Witches Broom disease, since phytosanitation and chemical control, which has been used in the management of the disease so far, has achieved only limited success.