Tribute to Professor John A. Spence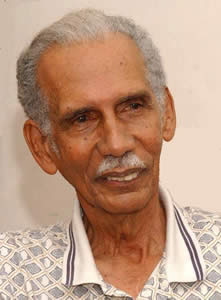 Professor Emeritus John Arnott Spence can be described as a true "Caribbean renaissance man" as he belonged to the esteemed group of individuals who, after achieving academic excellence in the United Kingdom, returned home with a burning passion and strong desire to build up our post colonial Caribbean society. His passion was agriculture and, in this regard, he served this sector and our country in many capacities. He worked at the Ministry of Agriculture as a pathologist before joining the University of the West Indies where he served as a Lecturer and Professor of Botany as well as Dean of the Faculty of Agriculture. His contribution to research has been recorded in over 50 scientific publications.
Upon his retirement from the University of the West Indies in 1989, he became Head of the Cocoa Research Unit (now Cocoa Research Centre) for eight years until 1997. Under his leadership Prof. Spence greatly enhanced the international stature of the Cocoa Research Unit and heightened the awareness of the pivotal function of the International Cocoa Genebank, Trinidad among other cocoa producing countries, including its recognition as a "Universal Collection" by the International Board for Plant Genetic Resources (now Bioversity International). He also established a strong programme for post graduate students, especially from ACP countries, so maintaining a good research environment that continues to this day.
Prof. Spence served the national community as an Independent Senator from the period 1986 to 2000 and was our strongest (and most vociferous) advocate for national and regional food security. He was equally critical of successive political regimes regarding the depth and vision of their agricultural programmes and served on and chaired many committees. In 2002, he chaired the "Committee for the Revitalization of the Cocoa Industry" and, in 2011, presented a report on behalf of the Economic Development Board on "Cocoa as an option to diversify the Trinidad and Tobago economy".
During his career, he served many important institutions, such as NIHERST, the Caribbean Industrial Research Institute, the United Nations Economic Commission for Latin America and the Caribbean (UNECLAC), Association of Professional Agricultural Scientists of Trinidad and Tobago, the International Board for Plant Genetic Resources (Rome) and the International Centre for Tropical Agriculture (Colombia). He also sat on advisory committees to the Inter-American Institute for Cooperation on Agriculture and the Commonwealth Science Council.
His tireless contributions to our national community were recognized in 1980 when he was awarded the Chaconia Medal (Gold). He was also elected Fellow of the Caribbean Academy of Science (1990) and received a NIHERST Lifetime Achievement Award (2000) for his contribution to agriculture.
In his later years, he continued his advocacy for agriculture, food security and other issues of national interest such as education as a weekly columnist in the national press until his passing on the night of Wednesday March 6, 2013.
Professor Spence was a gentleman, a family man who was noted for the fairness of his critique. His legacy will live on as he passed on his passion for issues of national interest, highest standards of research and thoroughness of discussions to many of his students and those with whom he came into contact.
Prof John Arnott Spence was a true Caribbean renaissance man, the strongest voice we have ever had for agriculture…and a true gentleman. God blessed him with a long and fruitful life. May he rest in peace.