Surendra Surujdeo-Maharaj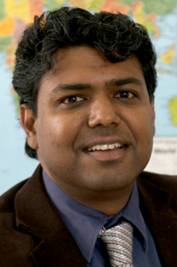 Overview
Surendra is CRC's Plant Pathologist leading the Pathology section. The pathology research team investigates all aspects of the diseases of cocoa that are (current and/or future) threats to the global industry.
Surendra has completed post-doctoral work at University of Manitoba and Centre de Coopération Internationale en Recherche Agronomique pour le Développment (CIRAD), Montpellier, France and is also currently lecturing at UWI for the M.Sc. in Crop Protection.
In 2007 Surendra was awarded the Prime Minister's Award for Innovation and Invention by the Government of the Republic of Trinidad and Tobago for his work on advancing the understanding of witches' broom disease.
Areas of expertise, interest/specialties
• Host – pathogen interactions in cocoa
• Molecular and phenotypic variability in isolates of Moniliophthora perniciosa and Phytophthora palmivora within Trinidad.
• Optimization of the Punch inoculation method to assess Black pod resistance between leaves and pods.
• Establishing bio-control agents for Black Pod and Witches' broom disease.
• Crop improvement and conservation biology.
• Cocoa productivity and quality improvement.
• Reviewer: Plant Pathology, British Society for Plant Pathology, U.K. (2005, 2006); Crop Protection (2009).
Projects
• Coordinator for the continuing project "Evaluation of Improved Trinidad Selected Hybrids (TSH) for resistance to Black Pod Disease"
• "Cocoa Trinidad Virus identification and epidemiology" in collaboration with CIRAD and the University of Minnesota

Selected Publications
Lanaud, C, Fouet O, Clément D, Boccara M, Risterucci AM, Surujdeo-Maharaj S, Legavre T, Argout X. 2009. A meta–QTL analysis of disease resistance traits of Theobroma cacao L.. Molecular Breeding. 24(4): 361-374.
Thévenin, J.M., Umaharan, R., Surujdeo-Maharaj, S., Latchman, B., Cilas, C., and Butler, D.R. 2005. Relationships between black pod and witches' broom diseases in Theobroma cacao. Phytopathology 95: 1301-1307.
Surujdeo-Maharaj, S.; Umaharan. P. and Butler, D.R. 2004. Assessment of resistance to witches' broom disease in clonal and segregating populations of Theobroma cacao Plant Disease, 88: 797-803.
Surujdeo-Maharaj, S.; Umaharan. P., Butler, D.R. and T.N. Sreenivasan. 2003. An optimized screening method for identifying levels of resistance to Crinipellis perniciosa in cacao (Theobroma cacao L.). Plant Pathology, 52: 464-475.
Contact Information
Cocoa Research Centre
The University of the West Indies
St. Augustine, Trinidad.
Tel: (868) 662 2002 Ext. 82268
Fax: (868) 662 8788
E-mail: surujmaha@gmail.com