Romina Umaharan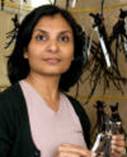 Overview
Romina began as a Research Assistant and is currently a Contract Officer I (since 2002) working independently in the Plant Pathology section, responsible for the Witches' Broom screening programme.
Activities involve planning and execution of the screening of cacao germplasm for Witches' Broom disease, preparation of publications/posters and currently, supervision of M.Sc. research.
Area of Expertise/Interests/Specialties
Witches' Broom disease of cacao, plant breeding. Currently pursuing a PhD in Plant Science (specialising in Witches' Broom resistance). Occasionally lectures for courses in Plant Breeding in the Faculty of Science and Technology, UWI. Previously worked on isozyme and RAPD fingerprinting in the Biochemistry (also known as the Molecular Biology) section.
Selected Publications
Chap.1, 3 & 7 in Elliot, Ian. Longman Agricultural Science: A Course for Secondary Schools in the Caribbean. Book 3 Harlow: Longman, 2011. Print.

Sounigo, O., Umaharan, R., Christopher, Y., Sankar, A. And Ramdahin, S. (2005) Assessing the genetic diversity in the International Cocoa Genebank, Trinidad (ICG,T). Genetic Resources and Crop Evolution 52(8): 1111-1120.
Thevenin J-M., Umaharan, R., Surujdeo-Maharaj, S., Latchman, B., Cilas, C., and Butler, D.R. (2005) Relationship between Black Pod and Witches' Broom diseases in Theobroma cacao. Phytopathology 95(11): 1301-1307.


Contact Information
Cocoa Research Centre
The University of the West Indies
St. Augustine, Trinidad.
Tel: (868) 662 2002 Ext. 82178
Fax: (868) 662 8788
E-mail: Romina.Umaharan@sta.uwi.edu