Naailah Aminah Ali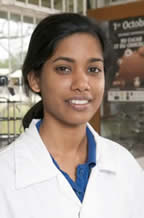 Overview
Naailah is a former intern who has been a Technical Assistant (2007-2008 and 2009-2011) in the Flavour and Quality section until recently when she was appointed to the post of Contract Officer I.
Completed undergraduate studies in Agriculture and postgraduate studies in Food Science and Technology. Currently pursuing a PhD. in Food Science and Technology at the University of the West Indies.
Areas of expertise
Physical and organoleptic assessment of cocoa samples, experience in research pertaining to fermentation and value addition. Responsible for some administrative tasks and laboratory management, also involved in training of sensory panellists and assisting students with research projects.
Projects
Assisted Dr. Sukha with:
ICS project (2006-2009)
WBDM project (2009-2010)
CDE project (2011-?)
Screening and selection of cocoa samples for cocoa of excellence (2009, 2010 and 2011)
Assessment of samples for the CCIBTT, MFPLMA and farmers (on-going)
Collaborative studies with universities, chocolate manufacturers, chocolatiers, farmers and other research institutions (on-going)
Publications
Ali, N.A., Baccus-Taylor, G.S.H., Sukha, D.A. and Butler, D.R. (2009). The effect of microorganisms and fermentation time on cacao (Theobroma cacao L.) flavour in: Proceedings of The 16th International Cocoa Research Conference, Bali, Indonesia: COPAL.
Ali, N.A., Badrie, N. and Sukha, D.A. (2008). Effects of adding cocoa (Theobroma cacao L.) pulp nectar to stirred yoghurts on physicochemical and sensory properties. Journal of Food Technology 6 (2): 51-56, 2008 Medwell Journals, 2008.
Contact Information
Cocoa Research Centre
The University of the West Indies
St. Augustine, Trinidad.
Tel: (868) 662 2002 Ext. 83332
Fax: (868) 662 8788
Email: Naailah.Ali@sta.uwi.edu or naailz@hotmail.com