Lambert A. Motilal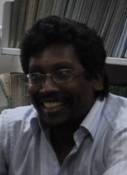 Overview
Lambert is a researcher (Contract Officer I since 2002) working independently (in the Molecular Section of CRC) on cacao germplasm fingerprinting. Primary activities include DNA extraction and various molecular fingerprinting techniques. Other activities involve laboratory inventory and management, obtaining quotations from suppliers and budget preparation for funding applications. On-demand activities include lecture presentations, student supervision, and development of modules for training workshops. In 2007, Lambert received a GORTT Research Grant for Campus Initiated Research Projects DNA markers for cacao traits together with Pathmanathan Umaharan and David R. Butler.
Areas of expertise, interest/specialties
Specialties include plant genomic DNA preparation, microsatellite fingerprinting, identity match declaration for fingerprinting and population genetics. Interests include DNA marker technology and candidate gene identification for marker assisted breeding in crop improvement.
Projects and Publications
Primary researcher in the Government of Trinidad and Tobago project: DNA markers for cacao traits
Selected Publications
Zhang, D., Gardini, E.A., Motilal, L.A., Baligar, V., Bailey B., Zuñiga-Cernades, L., Arevalo-Arevalo, C.E. and Meinhardt, L. 2011. Dissecting genetic structure in farmer selections of Theobroma cacao in the Peruvian Amazon: Implications for on farm conservation and rehabilitation. Tropical Plant Biology 4: 106-116.
Motilal, L.A., Zhang, D., Umaharan P., Mischke, S., Mooleedhar, V., and Meinhardt L.W. 2010. The relic Criollo cacao in Belize – genetic diversity and relationship with Trinitario and other cacao clones held in the International Cocoa Genebank Trinidad. Plant Genetic Resources Characterisation and Utilisation 8(2):106-115. doi: 10.1017/S1479262109990232
Motilal, L.A. 2004. The potential of cacao microsatellites amplification across diverse plant taxa. In: Genetic Resources and Biotechnology, Volume Two, D. Thangadurai, T. Pullaiah, Pedro A. Balatti (Editors), Regency Publications, New Delhi, pp. 24-49.
Publication rate for 2000-present is 2.5 per year:
Peer Reviewed (10), Book Chapters (5) Conference Proceedings (19).