Gérard Fourny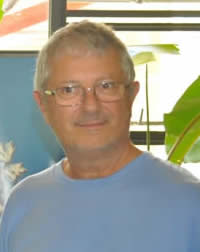 Overview
Gérard is a visiting Scientist at CRC from the "Centre de Coopération Internationale de Recherche Agronomique pour le Développement" (CIRAD, France). A Cocoa technologist, he is currently working on post-harvest (fermentation, drying).
Areas of expertise, interest/specialties
• Cocoa fermentation and drying
• Cocoa mycotoxins (OTA)
• Technical studies in the field
• Cocoa quality control
• Consultant on research and development projects
Projects/Publications
• Selected Publications
Identification of Ochratoxin a sources during cocoa post-harvest processing: influence of harvest quality and climatic factors
Bastide P., Fourny G., Durand N.,Petithuguenin P., Guyot B., Gilmour M.,Lindblom M., 2006 in 15 International Cocoa Research Conference : cocoa productivity, quality, profitability, human health and the environment. - Lagos : Cocoa Producers' Alliance
Contact Information
Cocoa Research Centre
The University of the West Indies
St. Augustine, Trinidad.
Tel: (868) 662 2002 Ext. 83332
Fax: (868) 662 8788
E-mail: