Annelle Holder-John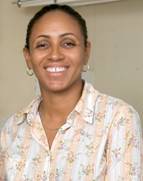 Overview
Contract Officer 1 with responsibility to work with the CRU Plant Pathologist and conduct research in phytopathology. Activities involve planning experiments and work schedules, executing planned experiments for disease evaluations, lab management, assisting and preparing reports and presentations and supervision of interns.
Areas of expertise, interest/specialties
Screening for disease resistance for Witches' Broom and Black Pod diseases of cocoa.
Pre-breeding
Recent work includes participation in the ongoing joint collaborative project with Ministry of Food Production Land and Marine Affairs (Government of Trinidad and Tobago).

Projects/Publications
2010-2011 - Project to improve resistance to Black Pod disease in the TSH clones.

2004-2009 - CFC projects to generate enhanced germplasm with resistance to Black Pod disease
2002-2003 - WCF project to screen cocoa clones in the ICG,T for resistance to Witches' Broom disease.
Contact Information
Cocoa Research Centre
The University of the West Indies
St. Augustine, Trinidad.
Tel: (868) 662 2002 Ext. 83330
Fax: (868) 662 8788
E-mail: annelle.holder@sta.uwi.edu